This month, we're turning the spotlight on the founder of the extravagantly colorful, vibrant brand, ban.do. We chatted with Jen Gotch, the founder and Chief Creative Officer, to learn about their drool-worthy planner collection, and what inspires their team.
Tell us a little about the four ban.do planners that Paper Source is carrying.
Holographic has been huge for us. It took us a while to perfect, but the holographic planner turned out incredibly magical. It looks great on its own or with a bit of flair.
The rose parade is a watercolor floral designed by our friend Helen Dealtry – she's been our go-to artist for a while now. We made the leaves and flowers glossy which looks really cool.
Fun Fun Fun is the Paper Source exclusive – woohoo! It features a variety of handpicked foils that we think are super…fun. We wanted it to feel like a party at a dance club.
I Am Very Busy is one of our most popular phrases and was featured on one of last year's agendas. This year, it has a whole new look with holographic letters and a ban.do pink background.

What is your inspiration behind the planner designs?
Aside from the obvious purpose of helping you stay organized, they're designed to be there for you, inspire you, and cheer you on. They're like a best friend that you carry in your bag. The covers are designed to be something you'll want to take with you every day – almost like they're a part of your outfit.
How does the size of the planner affect function?
We've realized throughout the years that it mainly comes down to preference. Some people prefer the small, case-bound version and some prefer the medium or large, spiral version. They all travel easily and have an elastic band to keep things neat. The bigger sizes obviously give you more room to write and decorate.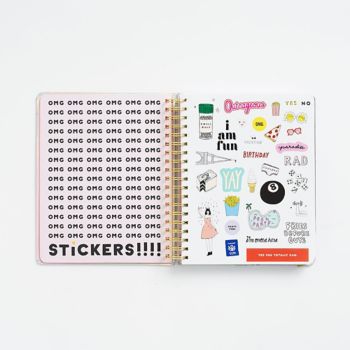 What are some fun ways to adorn the planner?
Our personal fave is covering entire pages in stickers, but really, anything goes! Tape, gel pens, stick-on patches, stamps, etc!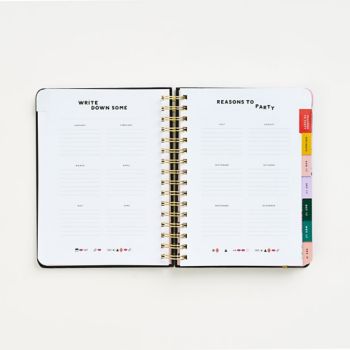 Why do people love planners so much?
There's something that's really satisfying about a physical book where you can track your goals and cross off your accomplishments. It's also a great place to express yourself creatively and serves as a neat archive/diary for your future self to look back on.
What are some unique tips on using your planner?
You can use our planners for practically anything. Have a wedding to plan? Training for a marathon? Want to plan your meals? You can devote an entire agenda to each of those! Their use isn't confined to just work related tasks.
What defines a ban.do planner?
The passion that goes into creating each one. We want it to be so much more than just an organizational tool, so we spend months making sure we feel great about everything that goes into each page and cover.
Why do you think the Fun Fun Fun design is a good fit for Paper Source?
We think the Paper Source customer likes to have fun with their stationery and organization, so Fun Fun Fun seems like a no-brainer. Plus, Paper Source is our go-to spot for party supplies and this cover was definitely inspired by parties!
How do you come up with the fun, empowering pieces that fill each planner?
It's a long process of brainstorming compliments and to-dos, and working with female artists from all over the world to create artwork that's playful, meaningful and motivating.
What is the ban.do mantra?
We are serious about fun!
---
To shop the full ban.do collection available at Paper Source, click here.
Share: