We are in love with our new and exclusive (designed by our team in Chicago!) print: bicycles! This print is a little neon, a lot of fun, and definitely a great unisex gift.
Drink up. These Ride On glass tumblers are perfect for a home bar. They're 3.5″ tall and hold 8 oz. A classic shape and size that anyone will love. Plus, they're dishwasher safe and under $20!
The perfect gift. Our new print is also available in a set of two Ride On Tea Towels. This dark fabric is decorated with bright bikes, and is perfect for the active host or hostess. It's also available in an apron, oven mitt set and tote bag!
Write it down. This set of three Mini Bicycle Journals is the perfect little everyday gift! Whether they're for a cycling enthusiast or a note fiend, anyone will appreciate the gesture.
Check out all of our new bicycle gifts here!
Valentine's Day is the perfect time to send love notes to your favorite people. Whether you're going for funny or sweet, here are some of our favorite valentine greetings, all designed by the Paper Source team in Chicago.
Just plain sweet. We love this You Are My Happy Place card because it's sweet and colorful with a great pop of gold foil. This lovely message can be sent to a partner, friend or family member.
You + Me, sitting in a tree. K-I-S-S-I-N-G. This new letterpress You + Me card gives us nostalgia. A perfectly romantic card for you and your significant other, the letterpress printing gives it a textured feel for a unique finish.
#Tooreal. This card is for all the tech lovers out there. Show your mate how truly serious you are with this Give Up My Phone valentine, displaying the lengths you would (but hopefully don't have to) go for them.
Looking for a great gift for your sweetie pie? Here are a few of our favorite gifts for Valentine's Day.
Heart of Gold. We love this new Heart of Gold porcelain mug that has a sweet message for any loved one. Designed by our team in Chicago, the gold heart really pops, and can be used year-round for your favorite beverage (try our You Are So Incredibly Awesome Tea)!
Man candy. If you can't find the perfect man…buy him! This Chocolate Perfect Man is a great gift for all the single ladies in your life (and probably some married ones, too)! Solid chocolate and delicious – a fun gift this Valentine's Day!
Love notes. These Sweet Sentiments Mini Journals are great lovely little gifts. Brand new and designed by Paper Source, you can give them as a set, or break them up and give individual journals as part of a gift bag!
Valentine's Day is the perfect time to add some lovely touches to your home décor; here are some of our favorite picks that are great enough to display year-round. (Psst! They're all brand new!)
Awesome color. This colorblock You Are So Awesome Tea Towel is bright and fun, and features gold lettering that pops. Give to a friend, or as a hostess gift (this is one tea towel they'll be thrilled to display)! Designed by our creative team in Chicago, you won't find this anywhere else!
Brighten up your space. This You Are My Sunshine Wood Art Print is made from laser-cut wood and features a bright yellow inlay for a cheery message you'll want to show off daily.
No, I love YOU more. This new Love You More Pillow features an exclusive Paper Source, bold typographic design that will seamlessly fit into any space.
When starting off the new year, it's always important to stay focused on your goals and to take time to reflect. Here are three of our favorite journals and notebooks that are sure to make writing a lot more fun.
It only takes five minutes. We've all been there: we resolve to record our daily thoughts more, and then stop after only a few weeks. If this sounds like you, you're going to love The Five Minute Journal. Each day only takes about five minutes, and includes prompts for both morning and night to keep the positivity flowing. (If you like the idea of being prompted every day, you should also check out our One Line a Day journals, Q&A a Day 5 Year Journal and the Q&A a Day for Kids 3 Year Journal.)
Sweet words. This brand new Follow Your Heart spiral notebook is perfect for daily thoughts and notes. Gold foil lettering and a bright pink heart make a dramatic statement against the black background. This journal provides a positive message year-round.
Make it your own. We're super excited about our new personalized journals! With over 40 original designs (all exclusive to Paper Source!) to choose from, plus 25 fonts and 4 inner page designs, you can create a custom design that's perfectly you.
Looking for some last-minute stocking stuffers? Head over to a Paper Source store to stock up on some of our favorite goodies!
1. Get a little candy crazy with this unique Hammond's Pigs & Taters Chocolate Bar. Perfect for adults and kids alike, this milk chocolate bar features pieces of potato chips and bacon.
2. Kids will love this Mini Neon Cubebot. The wooden limbs and elastic band muscles make this cube fun to manipulate.
3. We're not saying you should give anyone actual coal, but if you have a friend who's been a little naughty, give them this funny hint. It's actually Coal Bubble Gum, so they'll get a nice treat out of it.
4. These Junior Mints Peppermint Crunch are a fun take on a classic treat.
5. These Neon Hair Ties are functional but super cute, too. Pretty enough to wear on your wrist when not in use, and they won't tear your hair!
6. Our newest Joy Love Cheer Tea comes in a travel tin that's perfect for adult stockings. It feature Paper Source exclusive artwork and the black tea leaves create a robust base for this spicy infusion, while apples and a hint of licorice sweeten each sip.
Wondering what to get your favorite gal? Whether it's your bestie, your partner, sister or friend – we have some great gifts for all of the leading ladies in your life!
1. This Prisma Gold Frame is so cute and is the perfect touch of glam to any space. The geometric planes allow this frame to be showcased from a myriad of sides. Perfect for the home or office!
2. Our Custom Stamp Gift Box is a bestseller for a reason! This gift is the best for new home occupants, new grads, hostesses and more! The box includes a self-inking stamper, one black ink cartridge and one gift certificate that allows your recipient to customize a stamp plate online. Directions on how to redeem and a unique certificate code are included with each gift set purchase. Plus, this great gift is now Buy One, Get One 50% Off through Christmas 2014! Stock up on multiples for future use!
3. The brand new Heart of Gold Mug is so simple and chic. A lovely sentiment that your recipient will see daily!
4. Look ahead to 2015 with this Rifle Mint Floral Journal. Exclusively at Paper Source, this soft and feminine design features lined pages for daily entries or notes.
5. Help your favorite gal get organized! This Paper Source 2015 Mint & Confetti Planner makes a bold statement with a subdued mint and gold foil embellishment. The string-bound planner lays completely flat and is hard-covered for durability!
6. Ok, we know what you're thinking. A pen, really? But this classic gift is a great go-to for new grads, or as a congratulations on a new job. The Kate Spade Polka Dot Ballpoint Pen comes packaged in an effortlessly chic box with the phrase "She writes to-do lists for her to-do lists." on the inside. A fancy stocking stuffer or thoughtful standalone gift!
In this special edition of Weekend Wants, our Art Director, Karen Davis, tells us some of her favorite things from The Land of Nod! 
---
One visit to The Land of Nod and I was in love! I was just out of college and the bright colors and nostalgic toys and art drew me in – and without any babies or kids in my life, I bought a vintage spirograph for my sister and a big box of craft supplies for myself! Fast forward a few years to 6 adorable nieces and nephews, and The Land of Nod has been my #1 holiday and birthday destination. And then, last year, my guy and I welcomed a little one of our own. It has been a year of pure, absolute joy. The Land of Nod has been such a fun part of our journey, from our nursery decor, to thoughtful and colorful toys, musical instruments, snuggly animal friends and books. Here are a few of my favorites!
Greater Pyramid Blocks. I am ALL about the color of these blocks. This was my son's first Christmas gift! We also used them to make a sweet Valentine message for our families (pictured below).
Jellycat Corduroy Lion. Lions are a tradition in my family. My parents have bought one for each of the grandbabies, and they are all named, "Lion." Jellycat makes the most soft and cuddly animals!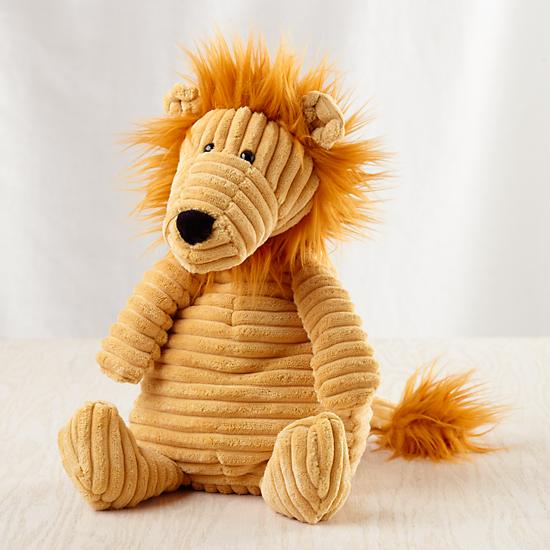 The Day the Crayons Quit. This book cracks me up. As someone who took extreme measures to keep her box of 64 Crayola crayons pristine and out of reach of younger sisters, I love the personification of the crayons and their feelings about the difficulties they face in their jobs.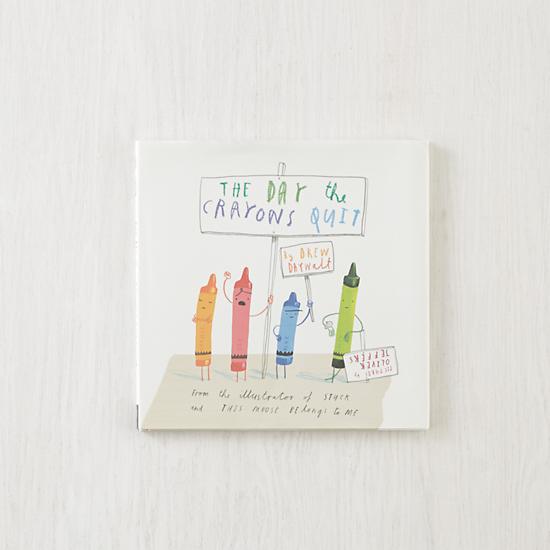 On the Go Travel Puzzle (Space). I love puzzles. My son and I have been doing this space puzzle together since he could sit up, and my husband just shakes his head at me… obviously no 6 month old (now 16 month old), is able to put together a 100 piece puzzle! But it is a fun activity we do together, and one day we will put it all together!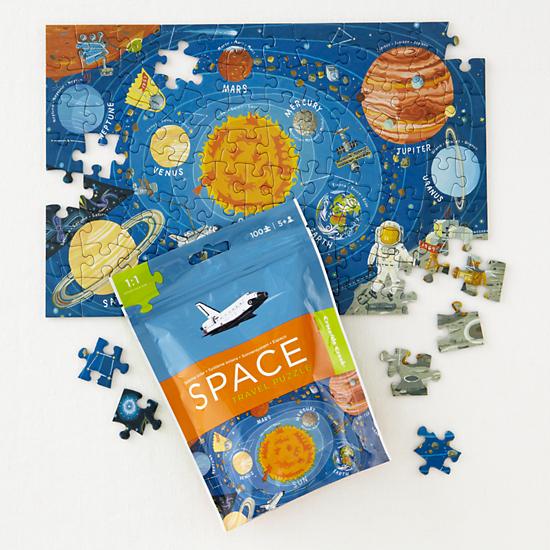 Extracurricular Play Table. This table is on my Christmas list for this year. I think it's so wonderful for little ones to have their own special place to go, and have special projects to work on. We already have a little art bin with my son's paints, papers and crayons. Scissors too. Again, my husband just shakes his head.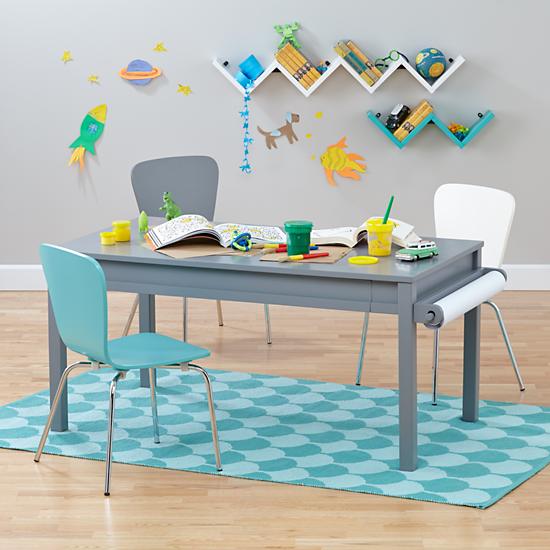 Artist Collective Poster Kit (Jon Cannell). And speaking of arts and crafts, how cool is this coloring book with wonderful illustrations?!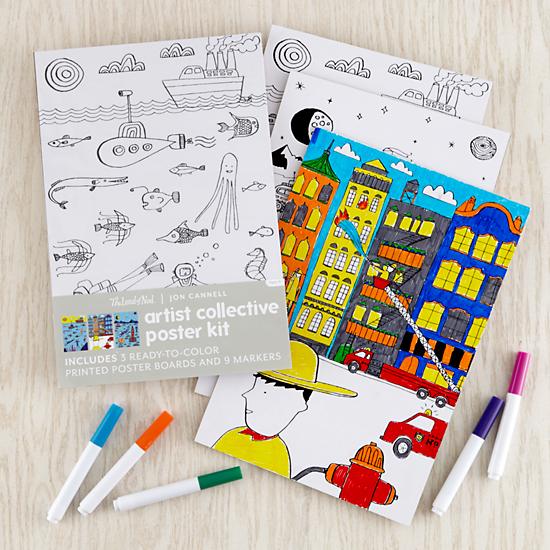 Wolfgang Amadeus Jr. Piano. My husband loves music, and so his mom bought this little piano for our son for his first birthday. It is so cute, he loves playing it, and my husband loves the unique sound, and plans to use it in a recording. When my son is not playing it, Lion sits a turn at the keys!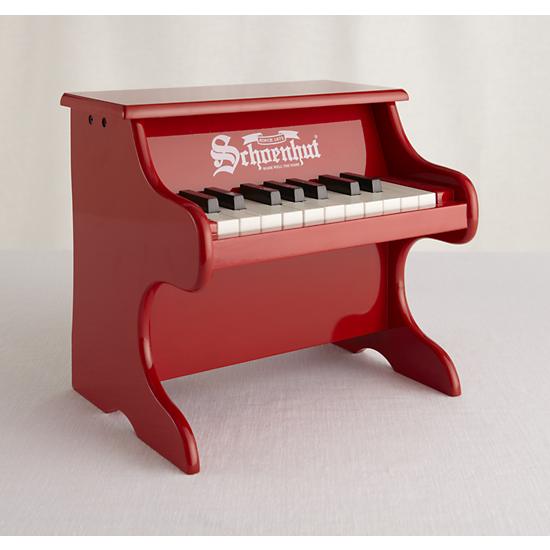 ---
Thanks to Karen for this roundup! If you'd like to take a look at The Land of Nod's favorite things from Paper Source, click here. And, as a special offer to Paper Source customers, use the code: NODDY for 15% off Toys at The Land of Nod! Hurry up, offer ends December 18, 2014! 
Another edition of our gift guide and this time we're talking about what to get your favorite kiddo! Here are six of our top picks (and here's a hint–it's all about imagination and fun)!
1. We are obsessed with this Lille Huset Dollhouse. The company aims to cultivate creativity in children, and designs their dollhouses with minimal decoration to foster imagination (considering our mission is to inspire you to "Do Something Creative Every Day," we're definitely on board). The house comes empty, but we decked it out with washi tape, ribbon and stickers. You can download free printables or start from scratch! Either way, your little one will love creating their own space.
2. It's no secret that Frozen is really hot right now. This plush Olaf talks when you squeeze him and will be the perfect companion for your Frozen fan!
3. Snowball fights have never been so fun! These battery powered LED Gloves light up and contain settings to control the color and type of light (solid or changing)! Have a nighttime snowball fight with these fun mitts!
4. Perfect for your little warrior! This one size fits most kids' Viking Hat will make going out in the cold a little more fun.
5. Make a movie! If you have a budding filmmaker, this is the toy for you! This Clay Animation Movie Kit allows kids to use the included backdrops, props and clay to create their very own film by snapping a pic with a smartphone. A free app download combines the pictures to create a movie that can be played back for the whole family.
6. Whether your child is the next Picasso, or unable to color inside the lines, this Xonex Just Art Set is the perfect gift to get them in touch with their artistic side. It includes color pencils, pastels, watercolors, brushes and more!