By now you've seen the variety of wrapping paper we offer at Paper Source. From quirky themes to classic prints, we have a wide range of wraps that are designed by our team in Chicago. Although the end result looks effortlessly beautiful, the design process is a lot of work that starts almost a year in advance! Below, we're going to show just some of the steps our new wraps have gone through before they're perfected and finished!
We love our new Holiday Bears wrapping paper. They're playful and fun, and perfect for kids (of all ages). You might be surprised to know that this wrap originated from our Wall Art Calendar. In fact, our calendars are the first things we design (we're already working on 2016 calendars) and often decide which themes we carry to other products. The bears started as a calendar page and were then re-designed to have a holiday feel for wrap. In the end, we loved the new look so much we changed it on the calendar, too!
Foxes are some of our favorite critters, so it seemed natural that we would update our everyday wrap and include them in our holiday assortment! The Holiday Foxes wrapping paper ended up bright and modern, but it went through several stages to get there! As Karen, our Art Director, says,
"We started out with the idea of making our everyday foxes into a holiday theme. We added the bodies to make them more life-like, and made sure to add cozy accessories like hats and scarves to make them even cuter. Between the second and third rounds, you can see we made changes to the background color and the scarves, to make them clearer. In the fourth round we added Santa hats and presents to some of them to bring in the holiday theme. But the fifth round was when we really went for it; we added Santa costumes, reindeer antlers and candy canes. We switched the background color to give it a cooler feel and we are very happy with how it turned out!"
The Pine Cones wrap is a classic holiday look. We wanted to add a fresh, but still traditional, theme to our wraps this year, and are in love with this design (so much we used it on many other things, too!). We added in bright bursts of red berries, and more green, to evoke a sense of real greenery on the wrap. Changing the background from Paper Bag made the color pop even more!
One of the most fun and unique things to design this year was our Ugly Sweater wrap! It's such a playful motif, and there was a lot of room to have fun with design! When we started, the sweater shapes varied, and the pattern was scattered. We decided to clean up the design by spacing the sweaters out evenly. The next step (as seen in round 3), was to make the sweater shapes uniform to make the page less busy. And finally, we changed the background color to something nontraditional, bright and fun! Here's another fun fact: The patterns in our sweaters use a lot of artwork from other Paper Source designs (check out the owls and tree lights in the last round)! If you love our Ugly Sweaters as much as we do, check out the other fun things we used them on!
We're so proud of our wrap designs, and we hope you enjoyed this peek into our process!
Wondering what to get your favorite gal? Whether it's your bestie, your partner, sister or friend – we have some great gifts for all of the leading ladies in your life!
1. This Prisma Gold Frame is so cute and is the perfect touch of glam to any space. The geometric planes allow this frame to be showcased from a myriad of sides. Perfect for the home or office!
2. Our Custom Stamp Gift Box is a bestseller for a reason! This gift is the best for new home occupants, new grads, hostesses and more! The box includes a self-inking stamper, one black ink cartridge and one gift certificate that allows your recipient to customize a stamp plate online. Directions on how to redeem and a unique certificate code are included with each gift set purchase. Plus, this great gift is now Buy One, Get One 50% Off through Christmas 2014! Stock up on multiples for future use!
3. The brand new Heart of Gold Mug is so simple and chic. A lovely sentiment that your recipient will see daily!
4. Look ahead to 2015 with this Rifle Mint Floral Journal. Exclusively at Paper Source, this soft and feminine design features lined pages for daily entries or notes.
5. Help your favorite gal get organized! This Paper Source 2015 Mint & Confetti Planner makes a bold statement with a subdued mint and gold foil embellishment. The string-bound planner lays completely flat and is hard-covered for durability!
6. Ok, we know what you're thinking. A pen, really? But this classic gift is a great go-to for new grads, or as a congratulations on a new job. The Kate Spade Polka Dot Ballpoint Pen comes packaged in an effortlessly chic box with the phrase "She writes to-do lists for her to-do lists." on the inside. A fancy stocking stuffer or thoughtful standalone gift!
So your shopping is done and the stockings are hung…now comes the fun part! Wrap your gifts in style this holiday season with these creative tips and creative gift toppers.
Delightful Details 
A few gift wrapping details that we love right now:
Trendy Tags- Gift tags are like mini holiday cards- and these little notes can make a  big statement! Tags and stickers ranging in color and style add thoughtful  detail to your perfect package. Our collection features chic embellishments like gold foil accents and chalkboard script for a charming touch to your gift wrap.
Ornate Ornaments- Share a special gift that your friend or family member will enjoy for years to come. An ornament helps to tie together holiday ribbon with a beautiful and practical decoration. Whether you're looking for something ornate or silly, we have plenty of unique ornaments to compliment each package in our ornament collection.
Baker's Twine- A sweet, classic look for your gifts, this bright twine looks great in a simple bow or can be wrapped around your gifts many times for a textured look. On our website, we offer a range of colors to match any wrap.
Pretty Paper 
Keep your wrapping simple and sophisticated with Chalkboard Wrapping Paper or Black Wrapping Paper tied up with Natural Jute Cord. Add a note with an Extra Fine White Chalk Ink Marker and attach pine cones, holly, or winter greenery for a warm, rustic look.
Baker's twine isn't just for wrapping cookies anymore! This new take on an old wrap combo is sure to be a sweet treat this season. Just wrap your boxes with simple Paper Bag Wrapping Paper and tie together with Red & White Baker's Twine. Add our darling Holiday Expressions Tags to bring together this sweet look.
Decorated with stunning details and understated sophistication, this little combo is simply golden. Wrap boxes in Chevron Table Wrapping Paper and Gold Foil Dots Wrapping Paper and tie with a rustic Linen Ribbon. Large Kraft Metal Rim Tags sweetly adorned with your recipients name in Gold Glitter Alphabet Stickers will make your gift wrap truly shine.
We love finding new ways to wrap our holiday gifts! What is your favorite new wrapping trend this year?
In this special edition of Weekend Wants, our Art Director, Karen Davis, tells us some of her favorite things from The Land of Nod! 
---
One visit to The Land of Nod and I was in love! I was just out of college and the bright colors and nostalgic toys and art drew me in – and without any babies or kids in my life, I bought a vintage spirograph for my sister and a big box of craft supplies for myself! Fast forward a few years to 6 adorable nieces and nephews, and The Land of Nod has been my #1 holiday and birthday destination. And then, last year, my guy and I welcomed a little one of our own. It has been a year of pure, absolute joy. The Land of Nod has been such a fun part of our journey, from our nursery decor, to thoughtful and colorful toys, musical instruments, snuggly animal friends and books. Here are a few of my favorites!
Greater Pyramid Blocks. I am ALL about the color of these blocks. This was my son's first Christmas gift! We also used them to make a sweet Valentine message for our families (pictured below).
Jellycat Corduroy Lion. Lions are a tradition in my family. My parents have bought one for each of the grandbabies, and they are all named, "Lion." Jellycat makes the most soft and cuddly animals!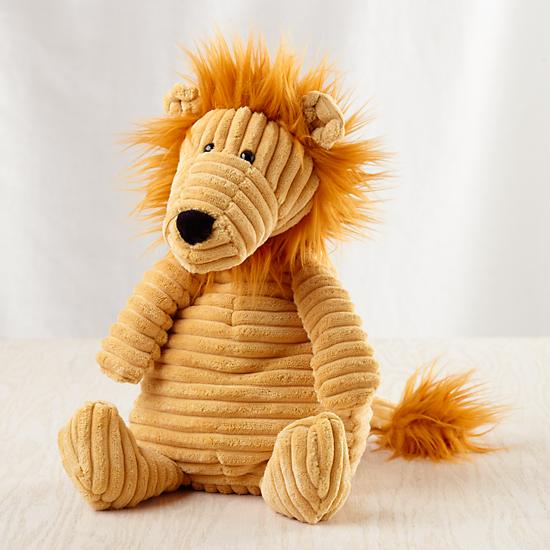 The Day the Crayons Quit. This book cracks me up. As someone who took extreme measures to keep her box of 64 Crayola crayons pristine and out of reach of younger sisters, I love the personification of the crayons and their feelings about the difficulties they face in their jobs.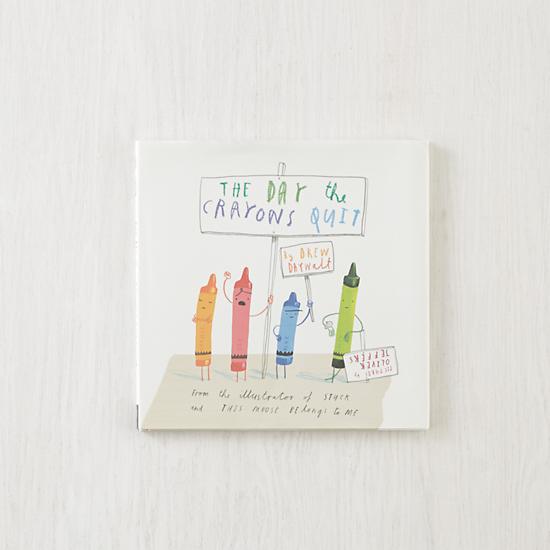 On the Go Travel Puzzle (Space). I love puzzles. My son and I have been doing this space puzzle together since he could sit up, and my husband just shakes his head at me… obviously no 6 month old (now 16 month old), is able to put together a 100 piece puzzle! But it is a fun activity we do together, and one day we will put it all together!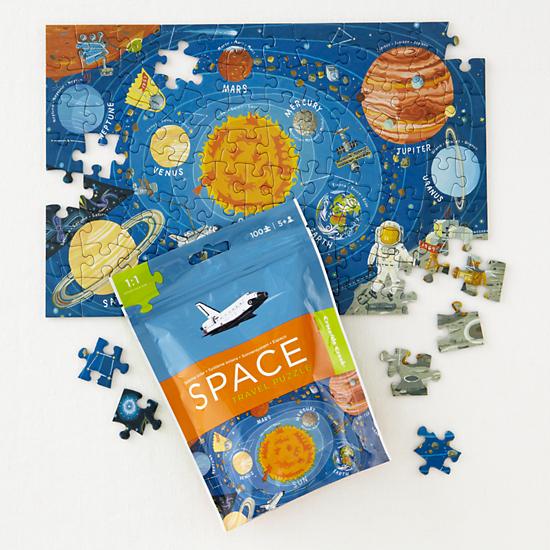 Extracurricular Play Table. This table is on my Christmas list for this year. I think it's so wonderful for little ones to have their own special place to go, and have special projects to work on. We already have a little art bin with my son's paints, papers and crayons. Scissors too. Again, my husband just shakes his head.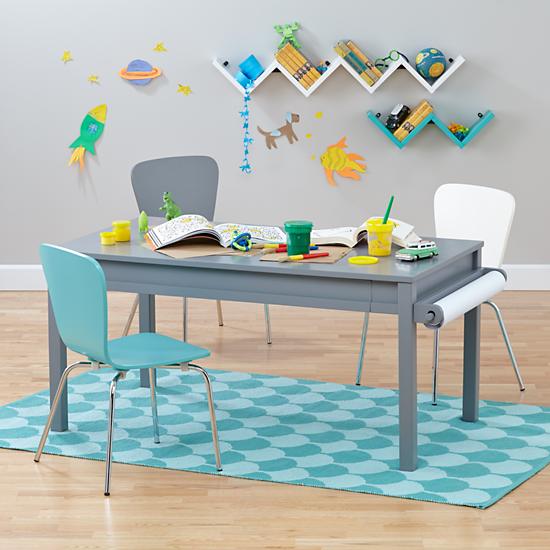 Artist Collective Poster Kit (Jon Cannell). And speaking of arts and crafts, how cool is this coloring book with wonderful illustrations?!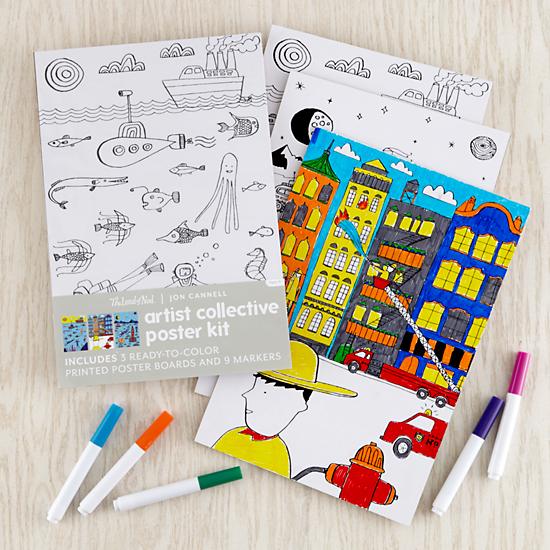 Wolfgang Amadeus Jr. Piano. My husband loves music, and so his mom bought this little piano for our son for his first birthday. It is so cute, he loves playing it, and my husband loves the unique sound, and plans to use it in a recording. When my son is not playing it, Lion sits a turn at the keys!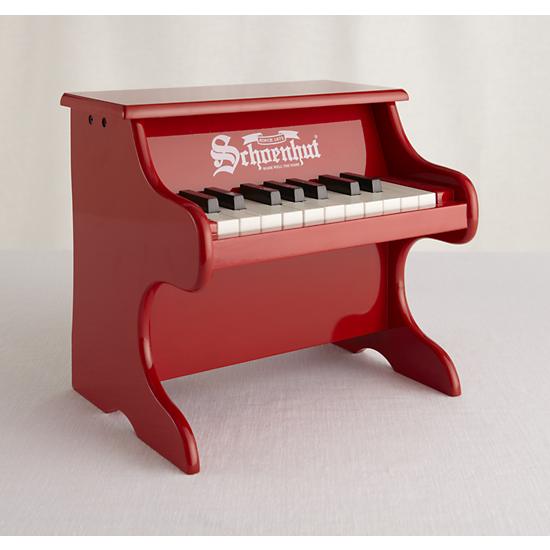 ---
Thanks to Karen for this roundup! If you'd like to take a look at The Land of Nod's favorite things from Paper Source, click here. And, as a special offer to Paper Source customers, use the code: NODDY for 15% off Toys at The Land of Nod! Hurry up, offer ends December 18, 2014! 
Make your home merry and bright this holiday season with one of our festive craft kits. These decorations are both fun and festive! Our garlands, wreaths, and advent calendars will add a splash of Christmas color to any room and are perfect for holiday entertaining.
Beautiful Banners
Hang our classic Merry Christmas Garland on your mantel or use it to trim your tree. All you need to do is string together these pre-embellished, glittery pennants with the darling red baking twine included in the kit. It pairs beautifully with our colorful Felt Triangle Garland to trim your tree or spruce up a table edge. Plus, this bright banner comes completely assembled and ready to hang!
Wintry Wreaths 
Create bright blooms for your front door, mirror, or your mantel with our Poinsettia Wreath Kit. This versatile wreath is a charming addition to any room and can be displayed in many creative ways!
Here are three ideas for how to display this beautiful craft:
Add a splash of color to your holiday decor with this fun craft project previously featured in Women's Day! This retro-inspired candy stripe design is sure to impress your guests. We've posted a step-by-step guide below to help you make your own!

Simply print our How To PDF, gather a few simple materials, put on some hot chocolate and get craftin'!
Materials:
Instructions:
Cut 50 Straws down to 6 1/2″, leaving the rest of the straws at their full length.
Apply a dab of hot glue near the center of the wreath form. Adhere a full length straw so that the end is flush with the center edge of the wreath form, creating a clean wreath "hole", then continue gluing and affixing straws, alternating short straws with long ones until the wreath form is completely covered.
Remove any hot glue threads from the wreath.
Tie a bow using the Clover ribbon and glue in place.
To hang, glue a small loop of matching ribbon to the back of the wreath form.
Christmas Countdown 
Make this sweet Christmas countdown with numbered cards, Washi Tape, cute Bakers Twine, and our adorable Red Mini Clothespins. Just arrange numbered cards in rows, cut and tape lengths of washi tape to a background or wall, and then hang cards using the clothespins. Check out the clever blog Scissors and Sage for step-by-step instructions and tips. Happy crafting!
Another edition of our gift guide and this time we're talking about what to get your favorite kiddo! Here are six of our top picks (and here's a hint–it's all about imagination and fun)!
1. We are obsessed with this Lille Huset Dollhouse. The company aims to cultivate creativity in children, and designs their dollhouses with minimal decoration to foster imagination (considering our mission is to inspire you to "Do Something Creative Every Day," we're definitely on board). The house comes empty, but we decked it out with washi tape, ribbon and stickers. You can download free printables or start from scratch! Either way, your little one will love creating their own space.
2. It's no secret that Frozen is really hot right now. This plush Olaf talks when you squeeze him and will be the perfect companion for your Frozen fan!
3. Snowball fights have never been so fun! These battery powered LED Gloves light up and contain settings to control the color and type of light (solid or changing)! Have a nighttime snowball fight with these fun mitts!
4. Perfect for your little warrior! This one size fits most kids' Viking Hat will make going out in the cold a little more fun.
5. Make a movie! If you have a budding filmmaker, this is the toy for you! This Clay Animation Movie Kit allows kids to use the included backdrops, props and clay to create their very own film by snapping a pic with a smartphone. A free app download combines the pictures to create a movie that can be played back for the whole family.
6. Whether your child is the next Picasso, or unable to color inside the lines, this Xonex Just Art Set is the perfect gift to get them in touch with their artistic side. It includes color pencils, pastels, watercolors, brushes and more!
Join us for the first installment of our holiday gift guide series! This week we're looking at some of our favorite picks for those special men in your life.
1. This newly updated Gentleman's Wash Bag is perfect for the frequent traveler in your life. It's sturdy with a classic look (the bag has a Navy felt finish), and has plenty of room to store all the essentials. The liner protects from spills on the go and is embossed with the quote, "What goes on tour…"
2. Keep your guy's Benjamins (or, um, Washingtons) in order with this Money Clip. It's brass-plated and engraved with the phrase "For You," giving the gift a special touch that seems personalized. If you want to go above and beyond, include some money already in the clip as a fun alternative to a gift card.
3. Perfect for the music lover, these Authentic Record Coasters are actually made with old LPs. The colorful artwork varies by package/what records are on hand, so each bundle is a surprise. Will add a unique pop of color to any home.
4. If you're buying for a classic and chic man, this might be the perfect gift. The Heritage Plaid Vacuum Bottle not only keeps beverages warm for up to 18 hours, it features the company's original pattern from its launch 50 years ago! It also includes two cups that fit within each other; perfect for sharing. (And if you want the complete look, a matching Lunchbox Kit is also available.)
5. A fun way to serve up your dude's favorite beer. These Big Rig Beer Tumblers are 100% recycled glass from reclaimed bottles of yore.
6. Journaling is definitely cool for men with this Cavallini Toscana Journal. Lined pages are bound in soft and supple bonded leather and closed tight with a leather tie closure.
Do you have a favorite? Tell us what you're planning for your favorite guy!
Create a stage for your Nutcracker Dolls to shine!
MATERIALS
INSTRUCTIONS
Line the lid and bottom of the shirt box in desired paper.
Using the lid of the box as the base, adhere the bottom of the box in an upright position as shown to create stage.
Embellish tree as desired using glitter paper and adhesive crystals.
Adhere tree to center of background using foam squares.
Fold place cards at score line and trim into different size squares.
Embellish as desired using washi tape and ribbon to create gift boxes. Adhere to stage as shown.
Download the banner PDF and print.
Cut out banner and adhere to front of stage.
Assemble Nutcracker kit according to instructions and use theater to make your characters come to life!
Our gift buyer Katie M. has a pretty sweet gig–she's in charge of deciding what gift items we carry (which is basically anything besides calendars, journals and stationery that could be gifted). From the wacky to the truly divine, Katie is responsible for curating a unique selection of great finds. Here are three of her favorite gifts for the Holiday season!
For a festive drink. "This Moscow Mule Mug makes a fabulous gift for the holiday season, and you won't find a better price! While I love the Moscow Mule just as much as Oprah, there are some fun twists on the cocktail that make it perfect for the winter. Try this recipe as a featured drink at your next party!"
Tech upgrade. "I'm so excited our iPhone 6 cases are arriving at Paper Source! I really like this Rifle design because of its elegant simplicity. Whether your iPhone is Gold, Silver or Space Gray, the clear case allows the color of the phone to become part of the design. Even though it features a rubber bumper and hard outer shell, this case won't give your phone too much bulk!"
A year of inspiration. "One of my favorite items to gift, especially during the holidays. This 365 Lovely Thoughts Pad from Sugarboo contains a thought or quote for each day of the year. It always seems to provide the bit of knowledge or inspiration I need for any given day. Here is a sample quote for this weekend, on November 30th:
"Kiss your life. Accept it, just as it is. Today. Now. So that those moments of happiness you're waiting for don't pass you by."
A great reminder to focus on the positives and bits of happiness that happen every single day and to not dwell too much on the past or worry too much about the future.